Adoration
through the Eucharistic Heart of Jesus

From her own words, we may learn from Mother Julienne of the Rosary how we can become adorers of the Father "in spirit and in truth" (Jn 4, 24), in and through the Eucharistic Heart of Jesus.
The Eucharistic Heart of Jesus loves us with an extreme love
"A body expresses the feelings of the soul, it expresses its love. 'You gave me a body ' (He 10, 5); the entire life of Christ unfolded in this way, in the concrete and bodily expression of his love: in his work, his apostolic endeavors, his miracles and finally his sufferings; and the summit of this expression [of his love], was [the gift of himself on] the cross.
"But this gift of his body and blood has not ended. The Savior gave us his gift of Good Friday on Maundy Thursday; he anticipated his sacrifice. Why? So that perpetually on earth, there should take place this sacrifice which glorifies his Father infinitely; so that he could also give his body and blood to each one of his disciples; so that he could come into physical contact with us; so that, in the history of salvation and in the Church, the bodily expression of his love could be ever present: "This is my body given up, this is my blood poured out ". We will hear [these words] until the end of time; and whose body, whose blood they are! We must enter into the mind of Christ, into his Heart on Maundy Thursday, into his Heart which became "Eucharistic", to understand these words: "This is my body, this is my blood ".
"If for him, there are no more physical sufferings because the risen Christ dies no more, it remains that it is his body and his blood that he gives us, in order always to express his love, to cry out his love. It is thus a continual act of love and this can be explained: for God is love and Christ is God; his life is thus an act of love."
(17-04-1973)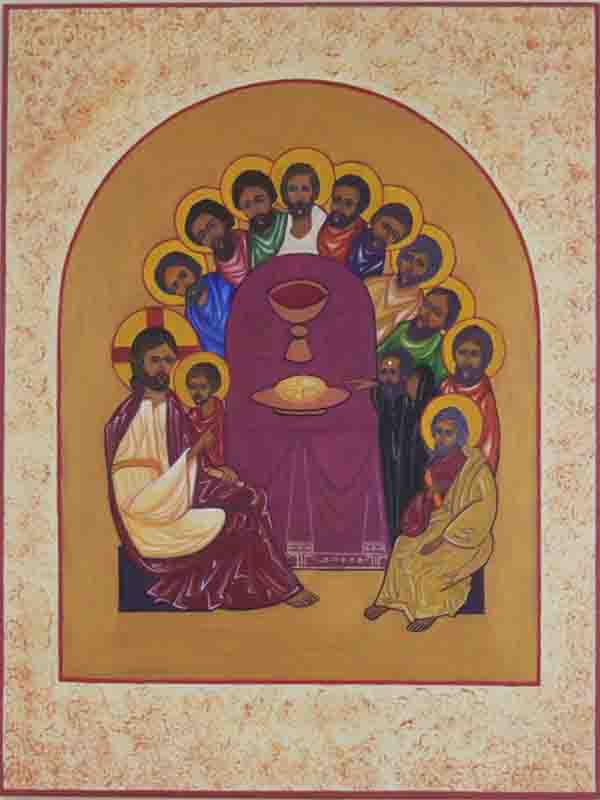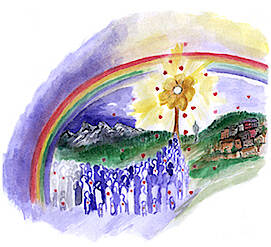 The Eucharistic Heart of Jesus awaits our loving response
"All the baptized have the obligation to live this love; they are incorporated into Christ, they form one body with him. We are the body of the Christ, we are the blood of Christ and, as baptized people, we must express our love in a bodily way.
"It was for the glory of his Father and the salvation of the world that Christ expressed his love through his sufferings, through the gift of his body and blood. Following in his footsteps, we must avail ourselves of everything in order to express physically, in our flesh, that we love God the Father, Christ, the Church, our brothers, our sisters; that we are, in the mystical body [of Christ], elements of unity, elements of salvation.
"To identify ourselves with the Eucharistic Heart is to enter into him so as to try to grasp what he would do to express his love concretely, bodily; to express it in the Church, to express it to his brothers [and sisters]. What would he do if he were in my place? In order to express his love to his Father, he would consent to do his will: ' Here I am, I come to do your will (He 10,7). With this body you gave me, I am going to do your will, Father. I will express this: what you want, I also want it and do so in love '.
"To express our love through a total adhesion to God's will in all the details of our life is to become identified with the Eucharistic Heart. To do so with the same sentiments as his is to express to God that we love him; and when it concerns brotherly love, our relations with our fellows, we express to them the love that Christ has for them. When we enter into relationship with others, this is what we must express through the delicacy of our manners, through the gift of ourselves, even including sacrifice. Sacrifice is a word that means much; it does not inevitably mean suffering; it means love. "
(17-04-1973)
The Eucharistic Heart of Jesus casts us into the Heart of the Father
"The Eucharistic Heart is Christ offering worship to the Trinity, offering all his mysteries to the Trinity: his Incarnation which continues in perpetuity, the Redemption whose merits are ceaselessly applied to souls individually. On the day of Redemption, on Good Friday, salvation was applied to all of humanity in general; but on Maundy Thursday, through Holy Communion, salvation was offered to each individually. It is baptism which saves us; but we are baptized for the Eucharist, for the intimate meeting with the Lord. It is the Eucharist which comes to do its work in our hearts: a work of redemption, a work of salvation.
"The Eucharist comes to us from the Heart of the Christ. It is Jesus offering worship to the Trinity and giving himself, so that we may enter his Heart, so that we may fathom his feelings, so that we may exchange our thoughts, our feelings, our life with him, in order to be able to live from his life. To this spirituality, a whole generation of souls is called. The Eucharist is the synthesis of all the Christian mystery, of all the mysteries of our faith. "
(05-07-1972)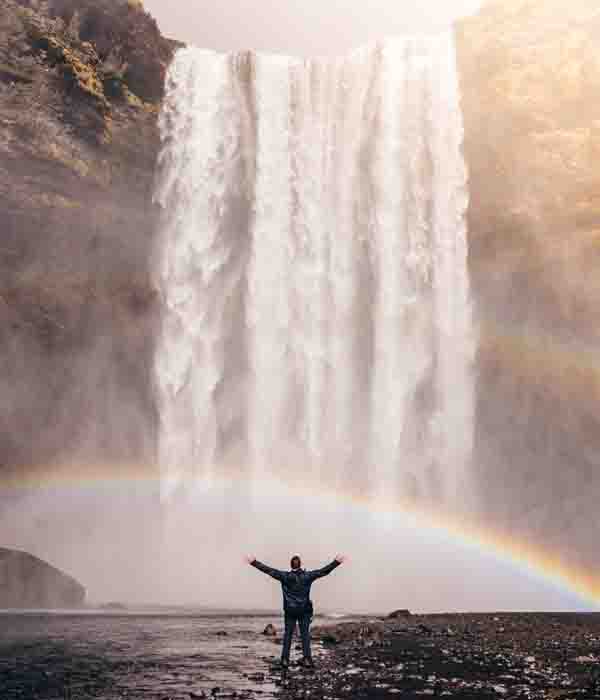 Let us adore the Father through the Eucharistic Heart of Jesus
"Christ came on the earth to save us, and we find our salvation in adoration. We are saved by the precious blood of Christ, by his death; but what is the death of the Christ? It is a sacrifice of adoration and of praise offered to God his Father and to the Trinity. We are saved by becoming adorers in him.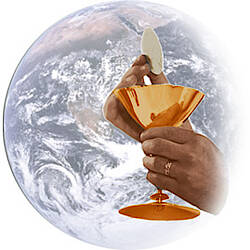 "All the Church adores; every believer, every baptized person in a state of grace adores in Christ. But within this immense concert of praise which Christ in the Eucharist offers to his Father and to the Trinity, there are some who make very personal acts of adoration. There are some who are adorers in a special way because they take time, at certain moments in their lives, to unite themselves to the sacrifice of Christ; and they do so in a very special way during the Eucharistic celebration. These people offer acts of adoration in spirit and in truth, in union with Christ who perpetuates his sacrifice on Calvary. And those who do this habitually, who use the more or less painful, and even the joyful circumstances of their live, to unite themselves with Christ who offers himself, those people become "hosts" of adoration and praise, because they make of their lives a sacrifice of adoration and praise with Christ. In Christ, all the Church adores in spirit and in truth. "
(28-03-1973)
Towards the end of her life, Mother Julienne summarized her message:
"Our Lord wants to draw our attention to his Heart which constantly produces this act of love, this act of self-giving, ever since Maundy Thursday. He wants our Congregation specifically to be missionary and focused on adoration, so that we may honor him in his act of love which gives us the Eucharist, and so that we may spread this devotion to the four corners of the earth. It is the whole Gospel in summary, which is made present and spread through the Eucharistic gesture, which is always identical to itself, and yet is always new and always fruitful: an act of love which produces ceaselessly the same mystery, that of the 'body given up and the blood poured out for the multitude ', from one end of the earth to the other, and up to the end of time."
(08-1992)