Adoration and new Evangelization
Simon Ruel shares with us his way of living Mother Julienne's spirituality
As part of an evening on the theme of "Adoration and new Evangelization" Mr. Simon Ruel, a member of Eucharistic Families movement, shares with us how he lives the Eucharistic spirituality. The evening took place March 11 at St. Gertrude Church.
Adoration and Everyday Life
Today, as part of this evening of renewal, I would like to humbly share with you my experience of adoration on the path of my life as a Christian, as a married man and as a member of the Eucharistic Families.
More specifically, in our world that leaves less and less space for religion in almost all the areas of our activities as a Christian, what is the meaning of adoration in our everyday life?
That question, transposed in the spirituality of the Eucharistic Heart of Jesus, also seems to correspond to the vision of Mother Julienne du Rosaire in December 1991. "… My dream is that there may be priests who are adorers, parishes where the people adore, Eucharistic Families, communities that adore, whole generations of adorers."
1-What is the Act of Adoration
The act of adoration is fundamental for a believer: "You shall worship the Lord your God". Because we have a body, this adoration expresses itself not only through thought, but also through gestures.
I would define Eucharistic adoration as freely given time: I am not coming to ask something; I am coming to encounter the Lord like a person who is happy to see a friend. I allow Him to look at me more than I look at Him, I allow Him to speak to me more than I speak to Him: "Here I am my Lord, what do you want me to do?"
It is an encounter: He is waiting for us. All we have to do is come humbly, as we are, with our strengths and weaknesses, with our joys and sorrows.
2-The Eucharistic Celebration as Source and Summit of the Act of Adoration
In Eucharistic adoration, we are invited to meditate on Jesus' attitude offering his entire life to his Father for the love of mankind, and doing it without asking anything in return. That is why the act of adoration resides above all in participating at Mass.
The Host invites us to a double movement, both to join and adore the Risen Christ, in glory near his Father, but also to embrace all mankind for whom Christ offers himself. Eucharistic adoration cannot be only an individual act: through the Eucharistic Bread, I reach out to the whole body of my sisters and brothers for whom Christ died.
Participating regularly at Mass allows me to refocus on what is essential and "to fill up" so as to continue, throughout the days, my efforts to let Christ be more present in my life.
Finally, for me, attending Mass gives me the impetus to accomplish the task of a Christian person which is to evangelize.
But how can I extend throughout the days and weeks this necessary impetus to put Christ at the center of my life?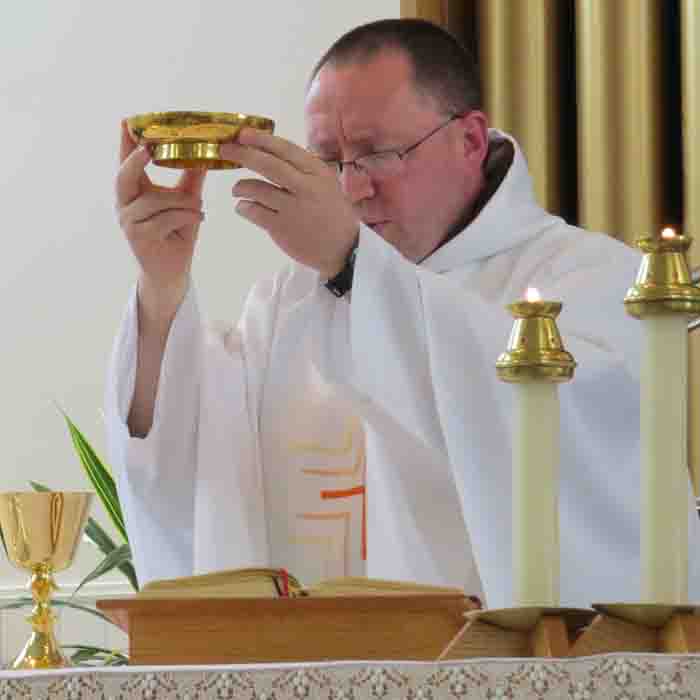 3- Concrete Ways that Help me Live Eucharistic Adoration in Everyday Life
3.1- To give oneself moments of recollection
The act of adoration is an encounter with Christ, so I try to take any opportunity that will allow me moments of recollection. For instance, every night before I go to sleep, I take a moment to meditate. Also, when I walk my dog every day (a 30-minute walk), I take advantage of that time to meditate or with my spouse when cross-country skiing on weekends and finally, when I take short "health walks" at lunchtime at work. As you can see, opportunities are not lacking.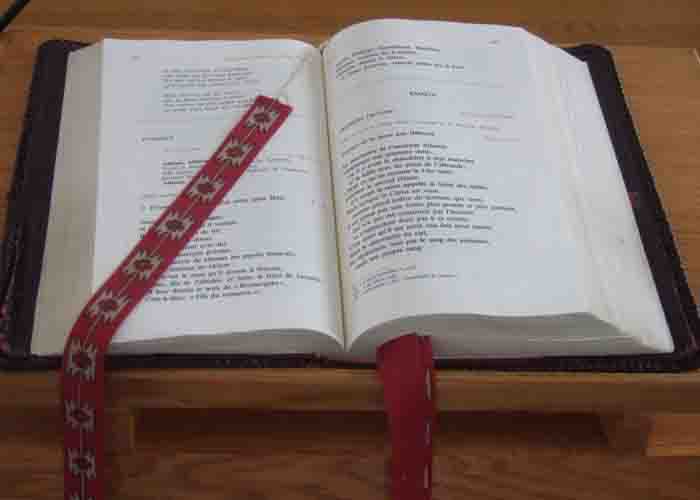 3.2- To draw from the Word of God
Another way to adore consists in praying with the Word of God, with a passage of the Gospel. Thus, in the morning, when I drive to work, my wife reads the first reading and the Gospel of the day. There again, this moment intensifies the awareness of the evangelical message in our lives and accompanies us in our ways of being and acting for the day to come.
3.3- To live Christian values
To identify with the Eucharistic Heart is to enter into Him to try to understand what He would do to express his love in a concrete manner: what would He do if He were in my place? That is when I find my ability to make the Christian values shine forth for my brothers and sisters. These values are faith, hope and charity and they can be embodied both at home and at work.
At work, I try to be cheerful and to be interested in what my fellow workers are living, without intruding. Again, without intruding, I try to show interest in them and in what they are doing. If necessary, I encourage them and give them support in the professional field. I ask about the progress in their mandates, I give them advice, I help them in revising their texts and so on. I also contribute financially to the United Way campaign because I consider myself blessed to have everything I need. Finally, my work being in Quebec City's lower town,I can see the state of poverty of the resident population. I therefore meet homeless people on a regular basis and I occasionally give them money.
On a more personal basis, on important days, when the work is challenging or when moments are more difficult, I entrust to the Lord those situations and surrender myself to His will. Such a move in a way brings me freedom and allows me to be more at peace with those difficulties.
As a couple and in my family life, I take time to participate with them in activities and sports or watch television. We also share household chores. Our union is strongly marked by respect for each other. Activities with the Eucharistic Families allow us to be together and to share our faith. Even if they are now young adults, my wife and I support our daughters (correction of academic works, repairs and maintenance duties, financial support). We ask them about their plans. On Sundays, we have supper with them. My wife and I support as well distant family members, for instance we support financially my brother-in-law who is a farmer who went out of business, as well as his children.
3.4- To share with Eucharistic Families
To be part of the Eucharistic Families movement, in which there are couples of all ages that are married and whose children are baptized, is a source that nourishes and revitalizes me. In fact, it is comforting to meet other couples that share the same concerns and values than us and it encourages me to go on living my life as a Christian. Facing similar challenges, at our monthly meetings, we can nourish our souls with teachings and testimonies and support each other to meet challenges that require our attention as Christians. At the beginning of each monthly meeting, we also have a time of adoration (30 minutes) in the chapel of the Dominican Missionaries Adorers and a break to share together.
3.5- To enter into thanksgiving
We too often forget to give thanks to God for who we are and for what we have. To give thanks to Him also for what he has been given to us. We must not be complaining or asking all the time, or consider what we are missing, but learn to be happy because we are a child of God.
3.6- To ask for the help of the Holy Spirit
The Holy Spirit comes to assist us in our weaknesses because we do not always know what are the right things to ask for in our prayers. But the Spirit himself intercedes for us with unspeakable sighs; and the One that sees the hearts knows what the Spirit's intention is; He intercedes in favor of the saints according to God. We have to ask the Holy Spirit to help us so that He may be our strength in weakness and come to inspire our prayers.
After having traveled along the path of Christian faith with the Eucharistic Families for more than 20 years, now we are asking ourselves how to live our faith and carry out the role expected from of us all, that is to evangelize.
The magnitude of this task often makes us doubt and even question our deepest convictions. Am I up to what Christ is expecting from me? It seems to me that I do not involve myself enough. How can I do more? However, in that spiritual path, I find that what is asked to me is not to become a saint right now but to walk towards holiness with my limits and weaknesses. Adoration, making Christian values part of my life at home and at work, renewing myself along the path with Eucharistic Families, all of that allows me to strive towards holiness by surrendering myself to the will of God with the strength of the Holy Spirit. It is not exactly about your capacity of doing things but rather how you are while doing them.
To conclude, I will leave you with a sentence that, I believe, could summarize the very essence of my testimony: the Holiness is not a way, it is in our way!
Simon Ruel, member of the Eucharistic Families